The Indie Film Music Contest was created because it seems daunting for beginner or intermediate composers to enter a competition, since they know there are professionals with years of experience who compete too. We know that there are other competitions that are open only to people with a specific age which trys to level the playing field, but there are still big differences between the years of experience they have. You just need a good amount of time and practice to become good at those technical abilities like orchestrating, mixing, mastering, etc. so we thought we would try something new and just ignore these aspects when judging the submissions to give even beginners who never used a DAW a fair chance. Obviously, professionals will still have an advantage over beginners but this eliminates one hurdle for them to participate and it gives them a good chance to actually win something and inspire them to learn even more.
The "Indie" refers to the contest being independently organized, which means that there is no big company behind it or sponsoring like it's the case with some other contest. Our sponsors just provide the winners of the contest with prizes. This, however, is also the reason why we can't make it free for you and have to charge a registration fee.
If you want to you can select the individual feedback option when registering. Then, one of our experienced judges will take extra time to write personal feedback for your submission to help you improve. You can see some examples here.
The extra fee is because of the extra time the judges are putting into it and since these are highly skilled professionals we want to compensate them accordingly. Therefore you also only get feedback from one of the judges since otherwise, it would make it even more expensive. This feedback option is unique to this contest and you generally can't get feedback from someone like our judges unless you know someone or you go to a university which is typically quite expensive. 
During the registration you'll have to create an account to make things even esier for you. In your account you can easily submit your composition with some notes for the judges to make your ideas obvious to them. Furthermore, you can also change your submission until the deadline and you will see when your submission has been reviewed in your account. So you can be certain that we received and evaluated your submission.
If you chose the feedback option you'll also see the feedback in your account once the contest is over and of course, you can change your password, look at your order history, download invoices and update your account info.
We are really just a small media company consisting of filmmakers and composers, called FalkenMedia. This is the first project we're doing together as a company and if it works out well, we'll probably bring a few other ideas we have to life. We're happy for any feedback, just send us an email at: support@indiefilmmusiccontest.com
The Judges and Blind Judging
In most competitions like this, the experienced judges actually only judge the final 10-20 submission and another panel narrows it down beforehand. This is done because judging a lot of submissions can take a lot of time and effort and most competitions want to save the time of their judges to keep the costs down, which makes sense and is understandable.
Therefore, we are proud to announce that our judges evaluate every single one of your submissions. We also implemented a system that allows the judges to evaluate your submission blindly. This means that they won't be able to see any personal information of you other than the video and your notes for the judges. This is done to make the contest fair for everyone and eliminate any possible conscious or unconscious discrimination of any kind.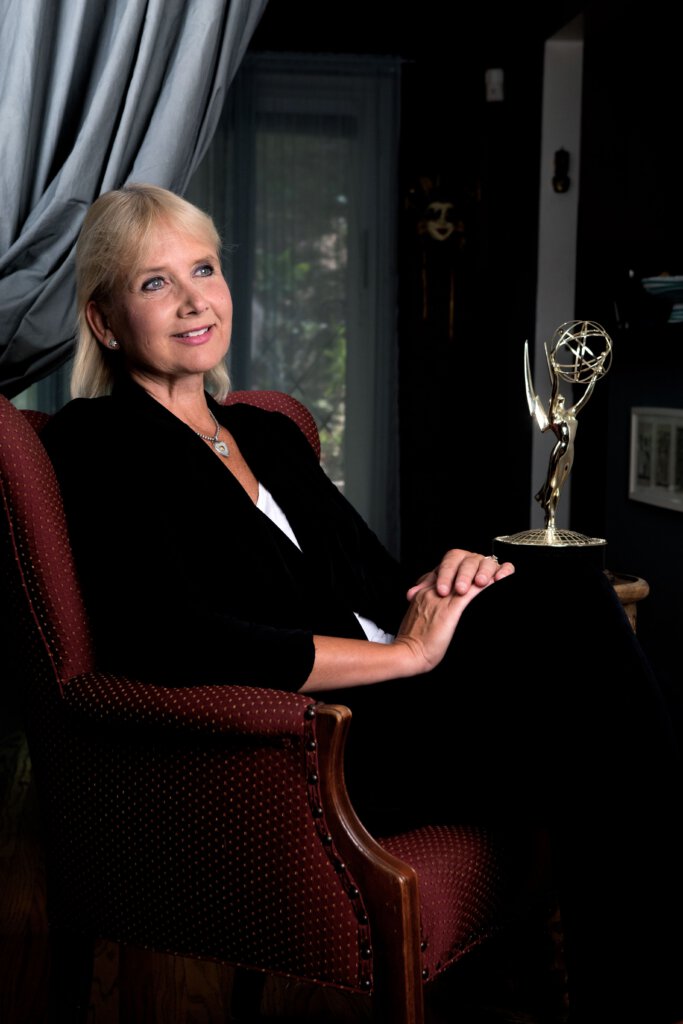 Lolita Ritmanis
Lolita Ritmanis is an Emmy Award winning, 10 time Emmy Award nominated composer and 2022 Grammy Award winning music producer for Women Warriors: The Voices of Change. On February 9th, 2021 she was Oscar shortlisted for the Academy Award for best original score for her 70 minute symphonic and choral score for the feature film Blizzard of Souls, which earned her the Hollywood Music in Media Award for best score for an international feature film, the Alex North Award for best score, the Society of Composers and Lyricists Award for best score for an independent film, as well as a nomination for the World Soundtrack Award – Public Choice. On February 18th, 2020 she won the Golden Microphone Award for best instrumental album, and on November 15th, 2020 Lolita was awarded the Big Christopher (Latvia's equivalent to the Academy Award) for Blizzard of Souls.
Lolita is one of the founders of the Alliance for Women Film Composers, serving as president 2016-2018, and a founding member of Dynamic Music Partners. In the fall of 2019 Lolita was an integral part of the Lincoln Center premiere of the live to picture concert event: Women Warriors: The Voices of Change, where three of her symphonic works received world premieres. Her symphonic work Overture to Light received it's 2018 U.S. premiere at Carnegie Hall. Other recent career highlights include her original score for Christmas in Rome for Hallmark, documentary Wild Daze (featuring Jane Goodall), music for the gender parity series Flip the Script (starring Lake Bell), as well as continued work alongside her fellow Dynamic Music Partners, Michael McCuistion and Kristopher Carter on fan-favorite productions: Marvel Rising, Young Justice, Batman: The Killing Joke (starring Mark Hamill.) Other career highlight credits include: Justice League (the theme, composed by Lolita, received a Primetime Emmy Awardnomination), Batman Beyond (Emmy Award Win), Teen Titans, Ben 10, Batman: The Animated Series, as well as composing score and songs for the Primetime Emmy Award nominated musical Batman: The Brave and the Bold: Mayhem of the Music Meister (starring Neil Patrick Harris.) Lolita's concert works as well as four original musicals have been seen and heard throughout the US, Canada, Europe, Taiwan and Australia. In addition to Lincoln Center and Carnegie Hall, her music has been performed at The Kennedy Center in Washington D.C., Koerner Hall in Toronto, Davies Symphony Hall in San Francisco, The Krakow International Film Music Festival, Fimucité International Film Music Festival in Tenerife, Canary Islands, and Playfest in Ubeda, Spain. Early in her career, Lolita learned from the masters while working for such composing greats as Michael Kamen, Basil Poledouris, Mark Snow and Shirley Walker, among many others. Prior to focusing her career on composition, Lolita was an orchestrator on over 100 films, mini-series and television programs including Lethal Weapon 4, X-Files Movie, and Robin Hood-Prince of Thieves. She received her formal education at the Dick Grove School of Music, specializing in film scoring. Lolita is on faculty at USC's School for Cinematic Arts- Screen Scoring Program, as well as has presented master classes and seminars at Columbia College Chicago -Music Composition for the Screen, MFA, as well as Hong Kong Baptist University Screen Scoring Program. Lolita is member of the Television Academy, National Academy of Recording Arts and Sciences, Society of Composers and Lyricists, and Women in Film. In 2018 Lolita was honored with the BMI Champion Award, and in 2022 Lolita was honored with the BMI Impact Award.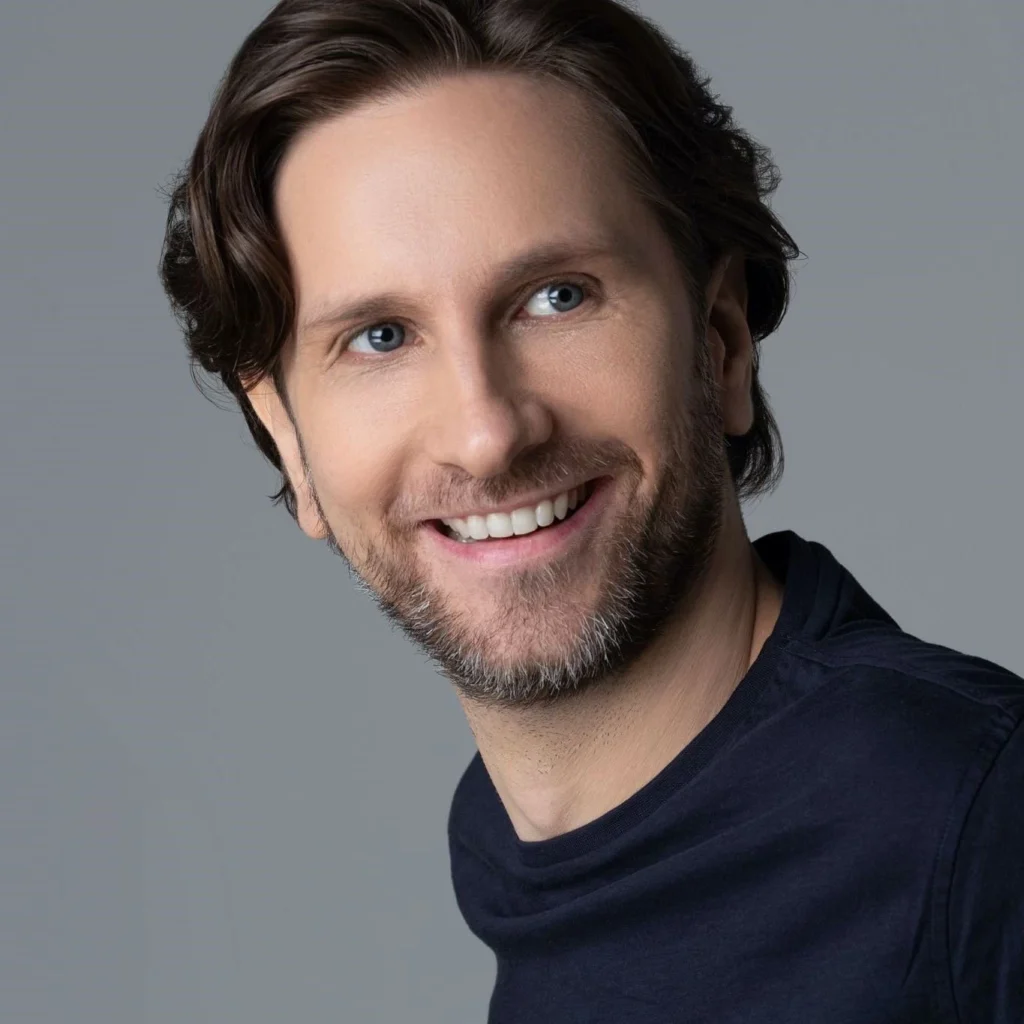 David Bertok

Composer of the award winning feature films "Peace by Chocolate" and "Botero", David Bertok writes for film, TV and the concert hall. After graduating from music college in Germany, David enjoyed a busy career as a live musician touring Europe with progressive rock bands opening for acts such as Scorpions and Saga. His band, Subsignal, reached the German album charts twice during his tenure as keyboarder, songwriter, lyricist and producer.
In 2012, he relocated to Los Angeles on a Fulbright Scholarship admitted to the famed Scoring for Motion Picture and Television Program at USC. David's robust orchestral themes and distinctive melodic approach can be heard on Netflix's "Chef's Table" and "Home Game", as well as Amazon's "Brittany Runs a Marathon" and "For the Love of George", just to name a few.
David's musicography extends to songwriting, producing and more. He has lent his orchestration skills to the 2018 Deadmau5 release of "Where's the Drop?", arranging for 2018 "America's Got Talent" Semi Finalists Angel City Chorale, collaborating with German Idol winner Marie Wegener and scoring a 60 minute symphonic orchestra work for the art installation "Stranger-Mankind" debuting in Munich in 2022.
Whether scoring for a full orchestra or creating an intimate piece with a single piano, David has the spectral ability to tap into a project's soul and lift it off the screen into your memory.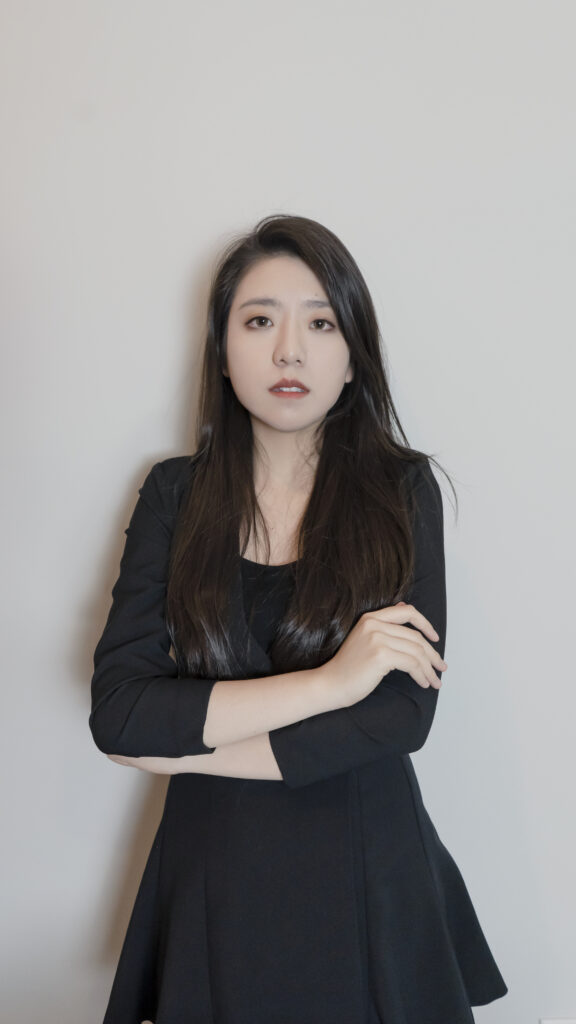 Yiren Wang

Yiren Wang is a composer, conductor, and pianist based in Shanghai, China. 
Recently, Yiren scored All These Year (2023), directed by Layla Zhuqing Ji, which grossed over $30 million at the Chinese domestic box office. She has also composed music for the animated series Jiayouzaojun (2023) and Team Rufu (2023) both produced by iQiyi, one of the largest streaming platforms in China. She has been producing music for the world's most-played mobile MOBA game, Honor of Kings (Tencent), since 2020.
Yiren's musical achievements include winning the First Place of the 2021 Upping Chord Conference Scoring Contest, the Excellent Awards of the 2021 International Digital Music Festival of Shanghai Conservatory of Music, the Excellent Awards of the 2018 National Composition Contest for Piano of Traditional Chinese Ethnic Educational Work, and the Excellent Awards of the Eighth Music College Composition Contest for Traditional Chinese Instruments (2014), among others.
Yiren's passion for music began at a young age, and she pursued her dream by attending Music Middle School affiliated with Shanghai Conservatory to study composition at age 15. She went on to graduate from Berklee College of Music in 2020 with a major in Film Scoring and the University of Southern California with a major in Screen Scoring.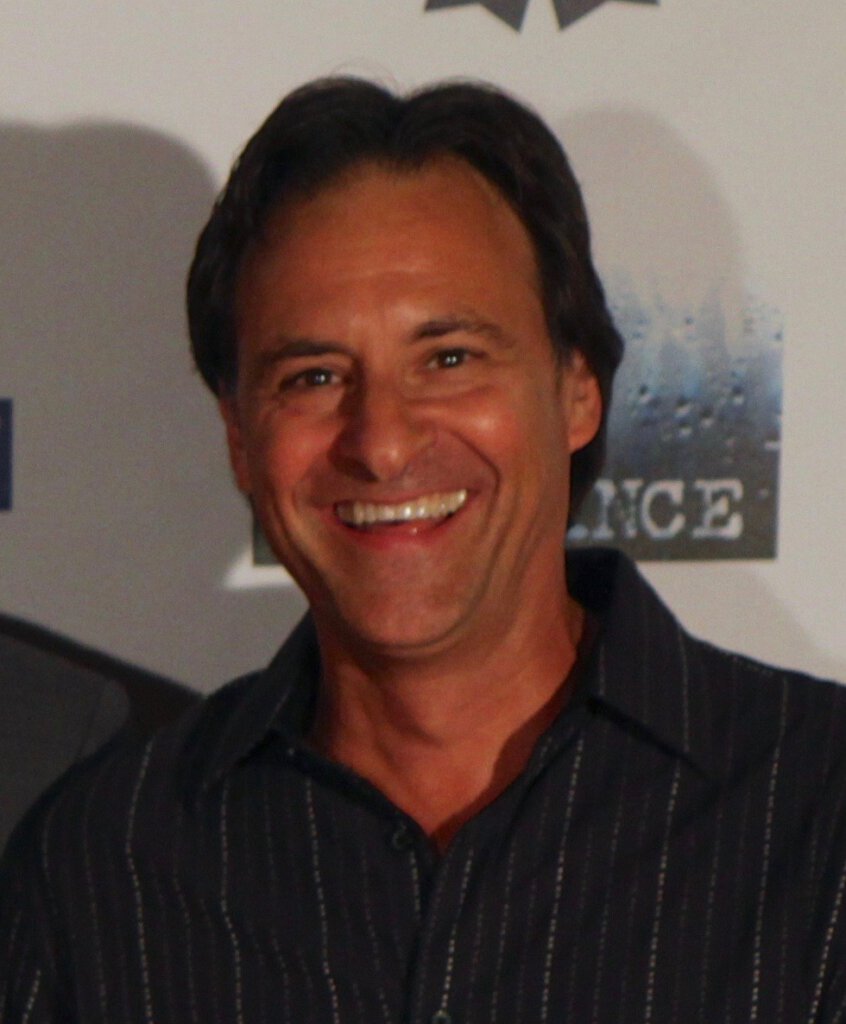 Eric Schmidt
For the past three decades Eric has been one of the busiest freelance composers in Los Angeles. Currently he works on the stop-motion animated series Robot Chicken and Crossing Swords. He has composed, orchestrated and conducted the music for over 300 episodes of animated series produced by Disney (Quack Pack, Darkwing Duck, Hercules, Goof Troop and Bonkers) and Warner Bros. (Tazmania, Tinytoons, Animaniacs and The Sylvester and Tweety Mysteries). His work has been featured in over two dozen motion pictures, including: Saving Adventure Island, Final Fantasy-Kingsglaive, Tom & Jerry and The Magic Ring, Mickey's Once Upon A Christmas, Lakeboat, Beethoven III, The Perfect Storm, A Kid in King Arthur's Court, Mighty Ducks II, Ground Zero, Employee Of The Month, My Super Ex-Girlfriend, Just My Luck, Little Man and Bounty Killers. He has produced music for a dozen commercials and six theme park shows. Over the past 10 years he has worked on the music for the award winning SONY PLAY STATION video game series Uncharted. He recently orchestrated for the pop group One Republic and for several years conducted and orchestrated for the pianist John Tesh.
His concert repertoire includes numerous compositions for concert band, a ballet, one symphony for orchestra, two works for choir, 32 solo piano pieces,16 songs for children's choir and several chamber works. Projects he has worked on have received the following nominations: 2 Grammys, 3 Emmys, 2 Golden Reel Awards and one Annie Award.
For the past thirteen years Eric has been an adjunct instructor at the USC Thornton School of Music Department of Screen Scoring, where he teaches composition, conducting and score analysis. For three years he was an ARTS COMMISSIONER for the City of Santa Clarita.
He is a member of The Academy of Television Arts and Sciences and The National Academy of Recording Arts and Sciences.
Eric studied architecture at Cal Poly San Luis Obispo, composition at California State University Northridge, film scoring at UCLA and attended the BMI Earl Hagen Film Scoring Workshop.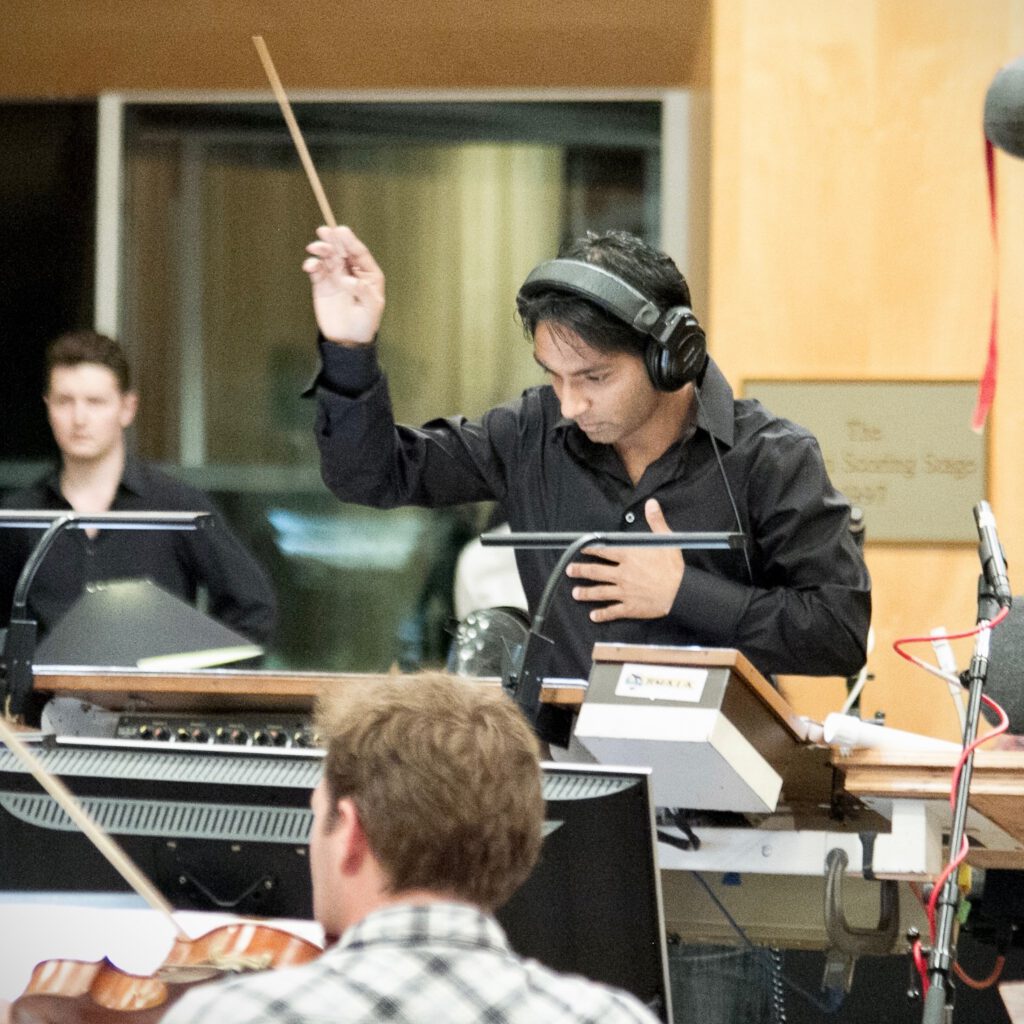 Vidjay Beerepoot
Vidjay Beerepoot has a gift for seeing the world through someone else's eyes, and that power—to relate and
empathize—makes film and TV scoring the perfect fit. His music has traveled on animated adventures in the Amazon (Ainbo), investigated Dutch politics (Brussels), accompanied Anthony Hopkins as a widower in mourning (Now is Everything), and explored The Power of the Heart with Maya Angelou and Deepak Chopra in the 2014 documentary. His most recent works include the drama El Houb, a film about a gay Moroccan-Dutch man coming out to his family, the animated TV-series Superkitties on Disney Junior and the Disney Channel series Minnie's Bow-Toons. 

Beerepoot has also scored more than 100 video games—including Harry Potter and The Secret Life of Pets titles— shorts, commercials, and musical theater. He has contributed additional music for Pinar Toprak (The Angel) and worked with such Hollywood heavy hitters as Tom Holkenborg and John Powell.

Becoming another person, or rather finding and expressing his humanity in another cultural context, was something he knew all about as a child born in India and adopted by Dutch parents. Growing up in the town of Hoorn north of Amsterdam, he loved listening to jazz and classical music as well as scores in the subtitled American films he watched in the '80s and '90s (which also taught him English)—but it wasn't until he got involved in his local musical theater group as an actor that he started exploring composition.
After studying music in The Netherlands and the U.K., he was hired to run the audio department at a Dutch animation studio, where he created scores and sound design for a huge variety of film projects. He had an appetite for everything musical—composing songs and score for multiple stage productions, recording pop and rock albums, and arranging for big bands. With that deep portfolio, he decided to take his film composing to the next level by attending the screen scoring program at USC, and since then he's built a rich, diverse body of work in Hollywood.

The Indian-born composer nevertheless says he has always felt "completely Dutch," and in coming to the U.S. he saw yet another culture through an outsider's eyes. "I think I'm really good at understanding how it is to be in a different situation, and to feel not the same as most people. I think especially in movies and stories, that's what most of the protagonists are going through, and I really connect with that feeling. I like to go into that journey and express that."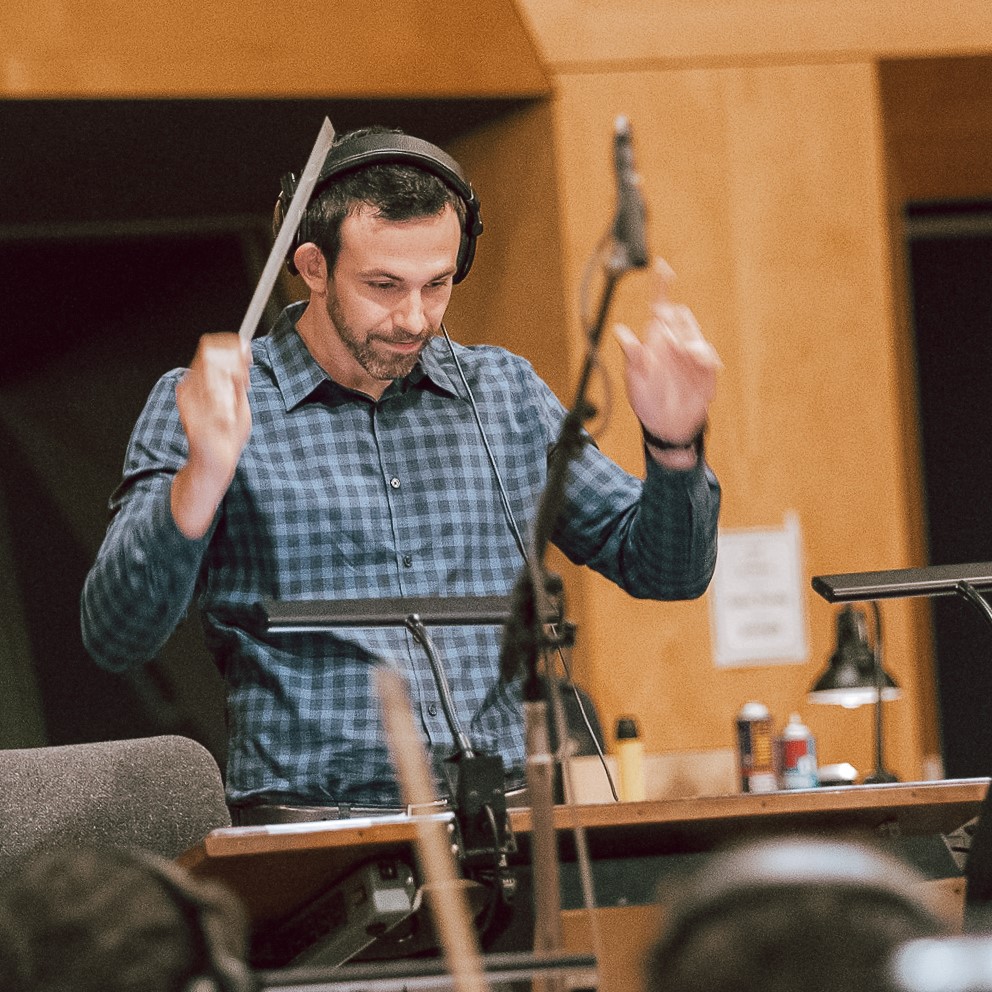 Grant Fonda
Hailed by the American Society of Composers, Authors, and Publishers as a "Composer to Watch", composer Grant Fonda has collaborated with numerous creatives on a wide array of notable films, including the acclaimed The Dating Project (dir. Jonathan Cipiti, 2018), the award-winning Down The Fence (Netflix, dir. MJ Isakson, 2017), the acclaimed Pray: The Story of Patrick Peyton, and The House That Rob Built. He is known for his tuneful writing on media projects that range from commercials to theme park shows to films for the small and silver screen.
Grant has been a composing fellow for Film Independent & ASCAP's Project Involve, a distinguished presenter at NYU's Music and the Moving Image Conference (2012), and is an alumnus of the prestigious ASCAP Film Scoring Workshop with Richard Bellis. He is also an alumnus of USC's acclaimed Screen Scoring program. With roots near Yosemite National Park, Grant now lives in greater Los Angeles with his wife, Carley, their two children, Zeke & Piper, and their beagle, Tozer. He is an avid chef and foodie, has a soft spot for interior decorating, and is easily persuaded by a well-prepared espresso or craft beer.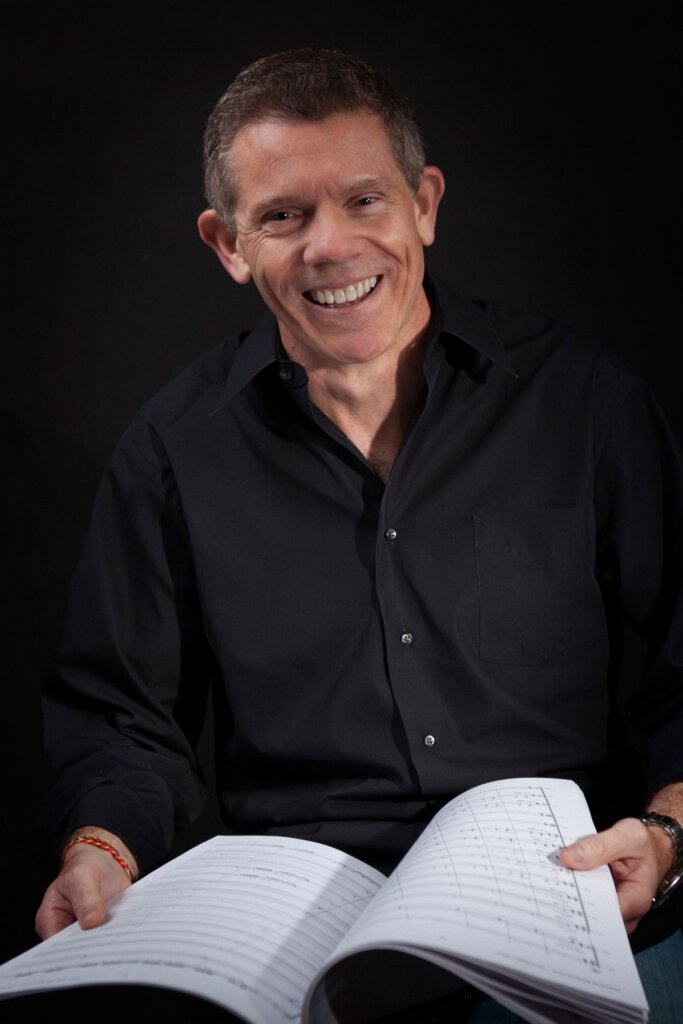 Cameron Patrick
Born and raised in Brisbane, Australia, Cameron Patrick is a graduate of the University of Queensland and the University of Southern California, graduating from their Scoring for Motion Pictures and Television program in 1989. He spent 29 years based in Los Angeles, where he was active as a free-lance violinist and violist, composer, orchestrator and arranger in the Hollywood film, television and recording industries. He was also an instructor for UCLA Extension's Entertainment Studies Film Scoring program, teaching orchestration from 2015 to 2017. As of January 2018, Cameron has moved back to Australia and is now based in Sydney, where he is Head of Screen Music at the Australian Film, Television & Radio School.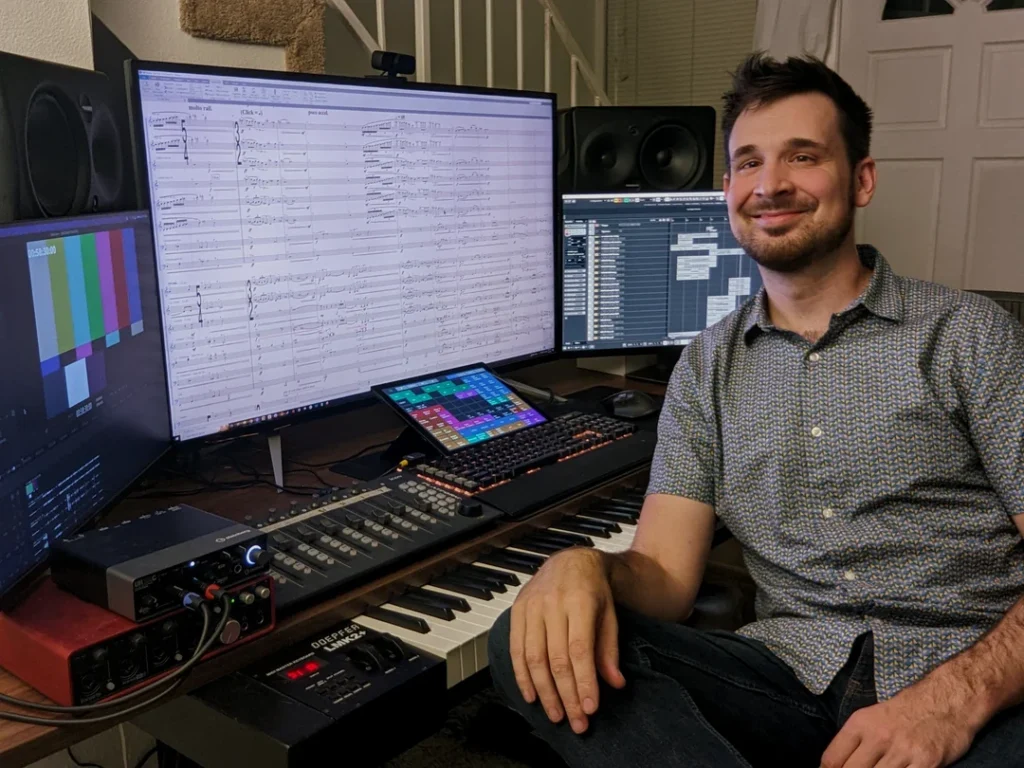 Jeff Tinsley

Jeff Tinsley composes music for film, television, and video games. He is also constantly in demand as an orchestrator and conductor. Jeff graduated in 2012 from the prestigious USC Scoring for Motion Pictures and Television Program, and is an alumnus of the ASCAP Film Scoring Workshop with Richard Bellis.
Jeff has enjoyed numerous opportunities as a composer to collaborate on a wide variety of notable projects, including The Nanny (2022), The Kids Table (2019), and Superior (2014). As an orchestrator, he is best known for his work on the Emmy-nominated score for Lego Star Wars: The Freemaker Adventures, as well as Scary Stories to Tell in the Dark and Marvel's Agents of S.H.I.E.L.D.